Estimated reading time: 4 minutes
Unifying all your mobile ad spend and app revenue is never easy. But what's harder still is making sense of it all once you have it in one place. We know that for mobile marketers having all your data laid out before you in a way that is simple, clear and concise helps you draw conclusions more quickly and, therefore, make decisions more efficiently.
That is why we're excited to announce some important updates to the Singular Analytics Dashboard.
Introducing Widgets
The most important thing you'll see when logging into your account is a slightly different view of the world – your enhanced Singular Dashboard. At the top of the Dashboard you'll notice an entirely new area called Totals. Totals is the first of our widgets and widgets are the main way that you're going to be navigating your dashboard going forward.  
Think of the Totals widget as the "pulse" of your user mobile acquisition efforts. As the name implies Totals gives you the accumulated data for each key metric over the period you've selected (by changing the date range in the upper left hand corner of the Dashboard).
(Click to enhance image.  Source: Singular Analytics Dashboard. Data is fictitious and for illustrative purposes only)
We've even color-coded these key metrics to make them easier to see. If you click on the small pencil-like icon in the right hand corner of the Totals widget you'll see that you can customize this widget to show only the data that matters most to you.
(Click to enhance image.)
Each widget in the updated Singular Analytics Dashboard is fully customizeable. You can select the metrics that matter most to you and configure the widget so that each time you subsequently log in you will only see the data that you selected. Better still, this customization is personal so other members of your team who have their own, individual logins can customize the widgets differently based on their own preferences. That way your VP of Marketing or CMO could have their Totals widget configured to only show them installs, total cost and ROI while you or someone else on your team might be looking at impressions, clicks and conversions as well as the other metrics we just mentioned.
More widgets
The second widget is OS Report, which will show your key data for the selected time period broken down by all available operating systems.
The third widget depends on whether you have multiple applications configured in the platform or just a single one. If you have only one application configured, the third widget will show you the Ad Network Report, i.e. your performance broken down by the ad networks you work with. If you have multiple applications configured on the platform, the third widget will show you the App + OS Report, i.e. breakdown by each application you're promoting per operating system.
The same level of customization as described for the Totals widget is available for the other two widgets as well giving you maximum flexibility and efficiency.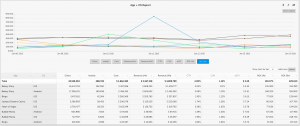 (Click to enhance image.  Source: Singular Analytics Dashboard. Data is fictitious and for illustrative purposes only)
"Dive" and go deep
One neat little trick we've added in our quest to get you to your data quickly is "Dive". Diving allows you to get to the reports section of your data more efficiently so you can run queries on data that you're interested in from the Dashboard. For example, let' say that you're looking at your iOS installs for Heart of Vegas (see screenshot below). If you hover above that row you'll notice that the cells darken and a small, pie-shaped icon appears next to the OS label in blue font. Clicking on that pie will allow you to "dive" into the reports page in Singular so you can run a deeper query on that specific data.  Using "dive" we've set up the Reports screen to automatically break down Heart of Vegas on iOS by source (ad network) so you can dive right into your ad networks analysis. Furthermore, you can also "Dive" into Reports by clicking on the pie icon on the upper right hand corner of each widget in the dashboard as well.  
(Click to enhance image.  Source: Singular Analytics Dashboard. Data is fictitious and for illustrative purposes only)
Hover over Heart of Vegas, click the Blue Pie icon and Dive into → the next screen
(Click to enhance image.  Source: Singular Analytics Dashboard. Data is fictitious and for illustrative purposes only)
Under the Hood
Lastly, we've also made some improvements under the hood with two main goals in mind: to get you to your data more quickly (you should notice improved speed and load times for your data) and to give you greater data consistency .
We're looking forward to getting your feedback as always.  
This update of the Singular Analytics Dashboard is available today for existing and new Singular customers. If you're not a customer and interested in knowing more about how Singular can help you make sense of your mobile data please don't be a stranger and reach out to us using the contact form on our homepage.
Patrick "Mad" Mork – CMO